Ashrita Furman has captured the public's imagination by breaking Guinness world records under outrageous conditions and in the most exotic places. He currently holds more than 120 Guinness records, including the official record for holding the most records! Since setting his first record of 27,000 jumping jacks in 1979, Ashrita has broken more than 300 records overall.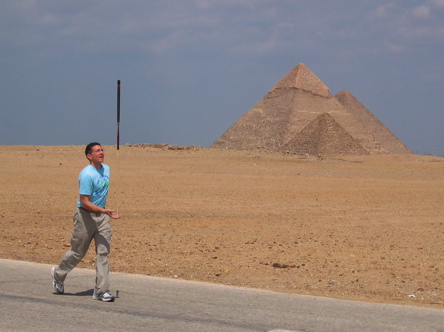 What compels this 56-year old health food store manager from Queens, New York, to perform these fantastic feats? "I'm trying to show others that our human capacity is unlimited if we can truly believe in ourselves," he says. Ashrita maintains that while some of his records may draw more laughter than respect, each one requires a great deal of determination, concentration and fitness.
Ashrita has broken a Guinness record on every continent including hula hooping for the fastest mile at Ayers Rock (Uluru) in the Australian bush and completing the fastest mile on a pogo stick in Antarctica. Ashrita has also set records at many famous landmarks around the world including standing on a Swiss Ball for the longest time at Stonehenge in England, balancing a pool cue while walking the longest distance at the Pyramids in Egypt, skipping rope the most times in a minute while jumping on a pogo stick at Angkor Wat in Cambodia, and bouncing the fastest mile on a kangaroo ball along the Great Wall of China.
Ashrita has been practicing meditation for more than 40 years and sees his records as a way to demonstrate the benefits of this ancient Eastern art. The name "Ashrita" is Sanskrit, meaning "protected by God." It was given to him by his meditation teacher, Sri Chinmoy, who Ashrita credits for his remarkable endurance and strength. "I am not a natural athlete, but my teacher has shown me that if one can be in touch with one's inner spirit, anything is possible."
Ashrita loves a challenge and, after many years of practice, he finally broke the record for running 8 kilometers (5 miles) on stilts in the fastest time, a record that had stood since 1892. Ashrita has walked 80 miles with a milk bottle balanced on his head, performed 9,628 situps (crunches) in an hour, balanced a 93-pound stack of milk crates on his chin, and balanced 700 eggs on end simultaneously. However, Ashrita's greatest challenge was probably his feat of performing forward rolls for the entire 12-mile length of Paul Revere's ride in Massachusetts. The unofficial rule is that the rolls have to be continuous, but you are allowed to stop to throw up!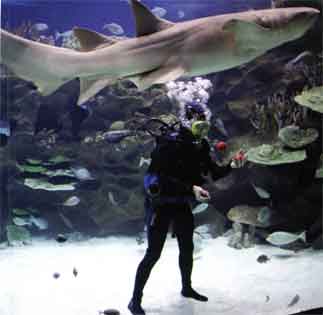 Ashrita is a great animal lover and, lately, some of his record attempts have involved animals, not always with the best results. Ashrita successfully invented the sport of underwater hula hooping and set the record alongside several dolphins in a lagoon in Florida. However, while trying to break the record for underwater juggling in an aquarium in Kuala Lumpur, Malaysia, Ashrita's attempt ended when a large shark deliberately bumped into him and knocked the balls out of his hands! More recently, in Mongolia, Ashrita set the mile sack-racing record while racing against a yak. Ashrita won by a nose, but the shaggy beast probably could have triumphed had he been more focused and not so busy, ahem, yaking away to his friends along the route!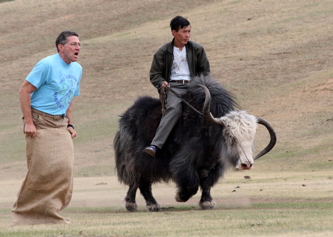 September 2010