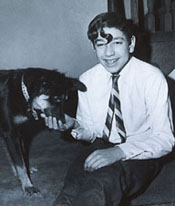 I've always had a deep fascination with The Guinness Book of World Records. Maybe the fact that I was born four days after the Guinness Book was first conceived, in September 1954, has something to do with it. That was also the year Roger Bannister broke the 4-minute mile. Or maybe it was the sense of perfection about being the best in the world at something that attracted my interest. Whatever the reason, I remember poring through "the book" as a kid, filling my head with all those spectacular superlatives.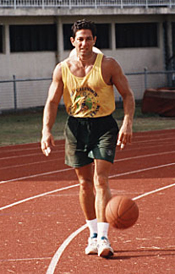 Of course, I never imagined I would ever get into The Guinness Book, because I was totally dedicated to developing my mind and felt sports was a complete waste of time. In fact, I even got beaten up my first day of high school for being such a nerd! But in my teens I started searching for a deeper meaning to life and studied Eastern philosophy and yoga. I later attended a meditation conducted by the Indian meditation master Sri Chinmoy, a meeting which changed the course of my life. The moment I saw Sri Chinmoy, I noticed a light around him and knew not only that he was a holy man, but that I was meant to be his student.
Sri Chinmoy radically altered the way I looked at things. Instead of using the mind to settle the questions of existence, he taught me to dive into the heart where a person's inner divinity can be most easily felt. I was flooded with a newfound peace and delight. My teacher's philosophy of self-transcendence, of overcoming your limits and making daily progress spiritually, creatively and physically using the power of meditation, really thrilled me. However, I was a bit unsure about the physical part in my case due to my lifelong commitment to nerdiness!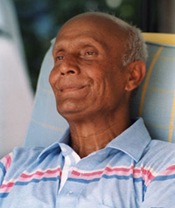 That all changed literally overnight several years later in 1978, when my teacher encouraged me to participate in a 24-hour bicycle race sponsored by Pepsi Cola in New York City. Sri Chinmoy knew what he was doing. I had an epiphany that night on my bicycle while riding around the course in Central Park. I realized firsthand that if you can connect with your inner source and be receptive to a higher Grace, you can accomplish anything. The body is just an instrument of the spirit and, if performed in the right consciousness, physical feats can be just as – or even more – uplifting than meditating in a temple! With virtually no training, I had managed to ride 405 miles in the race and tie for 3rd place overall! My thoughts immediately flew to getting into the Guinness Book.
After a couple of exuberant but failed record attempts, it dawned on me that I should probably train for these events! I incorporated an exercise regimen into my spiritual practice. Now the training has become almost as fulfilling as breaking the records themselves, although I have to admit, when I first saw my photo in the Guinness Book (for doing 27,000 consecutive jumping jacks) next to the awesome gymnast Nadia Comaneci, I got pretty excited!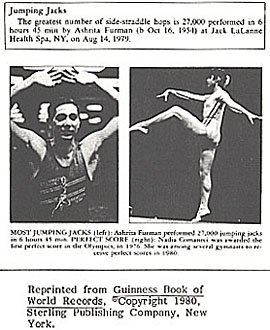 Attempting records has become an inherent part of my spiritual journey. I scour the Guinness Book looking for a category I think will be challenging and fun. Many of the records involve childlike activities such as juggling, hopscotch, unicycling, pogo stick jumping, somersaulting, yodeling and balancing objects on my head and chin. I get joy not only in practicing the activity itself, but also in seeing my progress towards achieving a once daunting goal.
I hope after reading all this that you are inspired to attempt some feat of your own. The particular event is unimportant as long as it gives you the opportunity to dance on the edge of your capacity. But be prepared – the benefits could be both illumining and far-reaching!
As Sri Chinmoy so eloquently says: "The determination in your heroic effort will permeate your mind and heart even after your success or failure is long forgotten."
(Video: Challenging Impossiblility, a documentary about Sri Chinmoy's own achievements in the field of weightlifting, premiered at the TriBeCa Film Festival in 2011)
More information:
Sri Chinmoy's official site
Sri Chinmoy Marathon Team – the world's largest organiser of endurance events, founded by Sri Chinmoy in 1977 as a service to the sporting community.
Inspiration-Lifts.org – Sri Chinmoy was an avid athlete, and in the last 22 years of his life he embarked on an extraordinary journey in the field of weightlifting.
Other people inspired by Sri Chinmoy:
Five-time Olympic medallist Tatyana Lebedeva was a close friend of Sri Chinmoy – she talks in this IAAF interview about the inspiration and advice she received.
List of tributes by heads of state, Nobel laureates, religious sporting and cultural leaders