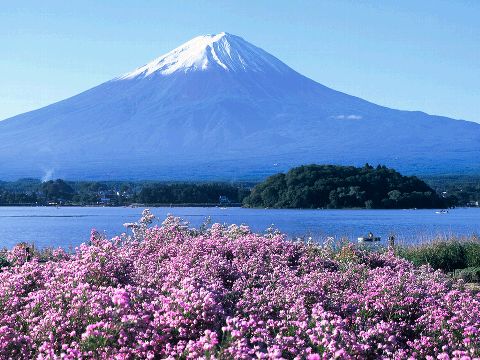 It is a great feeling to bring joy to others…to make them smile or laugh. In fact, this is one of the main reasons I break Guinness records. I try to find an event that is not only challenging, but also has a joyful aspect to it. For example, one of my favorite record attempts is pogo stick jumping up Mt. Fuji in Japan. Not only were the kids in Japan delighted by the event at the time, but whenever I tell people about it, it almost always brings a smile to their faces.
As my spiritual mentor Sri Chinmoy so eloquently says: 
 "Just one smile immensely increases the beauty of the universe."
This past summer, I discovered another record that tickles the imagination. It is the record for running the fastest mile while wearing swimming fins! It sounds crazy, (which it is), but trying to break the record was no joke, and there were all kinds of flips and flops along the way!
I guess the hardest thing about running in swimming fins is obvious – fins are designed for water, not dry land! In order to run in them, you have to lift your legs quite high and it soon becomes a test of endurance for your quadriceps. As you get tired, your legs have less lift and, inevitably, the tip of the fin doesn't clear the ground, folds underneath, and you go stumbling forward. The other problem is that your foot strikes the ground at an unusual angle which puts a strain on your Achilles tendon. While training, my Achilles got painfully sore, but I could never get a clear answer as to the best way to treat the injury. Whenever I asked my running friends for advice all they would say was, "Ooo, that's bad, you don't want to get Achilles problems – once you get them they never go away"!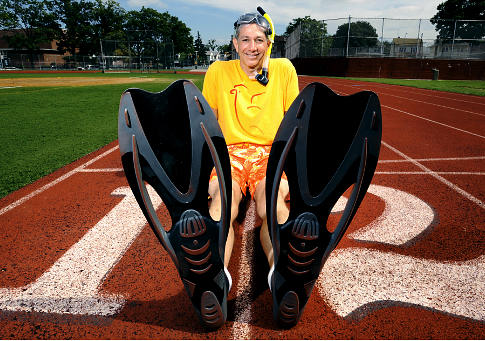 Anyway, I survived the various injuries and my training progressed well. My favorite place to practice was the Jamaica High School Track because I just loved hearing the giggles and guffaws from the kids whenever they spotted me.
Some friends in Puerto Rico heard about the new event and they invited me to attempt the record on their beautiful tropical island. It didn't take much to convince me so this past July, I flew into San Juan raring to go. I was hoping to complete the mile in less than 9 minutes and, in front of the media and official witnesses, I managed to run a sub 8-minute mile. In its first public showing, fin running made a giant splash!
Unfortunately, the splash quickly turned into a puddle. In the process of filling out the paperwork for Guinness, I discovered that there was a misunderstanding concerning the minimum size of the flippers. As it turns out, each fin has to measure at least twice the length of one's foot and the fins I used were 2 inches short. Sadly, my big feet invalidated the feat, but I was determined to see the record to the finish!
The next day, I went into a scuba shop in Manhattan to search for proper length fins, but the only way to test them was to run in them. So, as discreetly as possible, I took off my shoes and socks, slipped on the flippers, and started clomping around the shop! I quickly discovered that no amount of discretion can hide someone running around in fins! It took a bit of explaining before I could convince them that I wasn't a few cards shy of a full deck! Fortunately, I found a good pair of fins and began my training anew. The longer footwear slowed me down, but I was hopeful that I could still manage a decent time for the mile.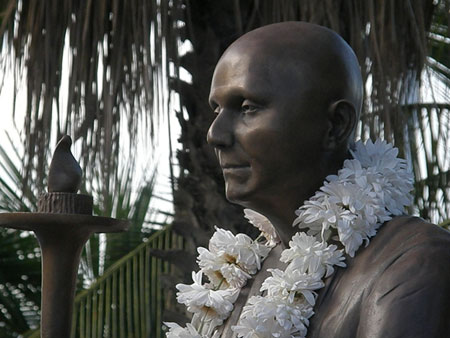 In the meantime, I got involved with other projects, but this past November I heard that the city of Mazatlan in Mexico was installing a bronze statue of Sri Chinmoy. I was eager to attend the ceremony, and it occurred to me that while I was in Mazatlan I could attempt the fin running record. Mazatlan seemed like a perfect location because, besides being right on the Pacific Ocean, Mexicans are known to be wild about Guinness records. In fact, a recent New York Times article maintained that if Guinness ever established a record for the country most obsessed with records, the record would unquestionably go to Mexico!
From my own experience, I discovered that, indeed, the Mexicans are keen about records, and they are also very a warm and heartfelt people. My friend, Bipin, and I flew into Mazatlan in time to catch the statue ceremony. After seeing the statue and hearing the mayor's comments, I was full of inspiration to attempt the record which was scheduled for the next morning. I expected that the event would be a quiet one since I was told to be at the track at 7 am to avoid infringing on a big track meet due to start at 8. Unfortunately, the officials for my record attempt got delayed and didn't make it to the track until 10:30. By that time, the track meet was in full force and wasn't expected to end for another 3 hours. This was well past the time my required witnesses could stay. We were in trouble.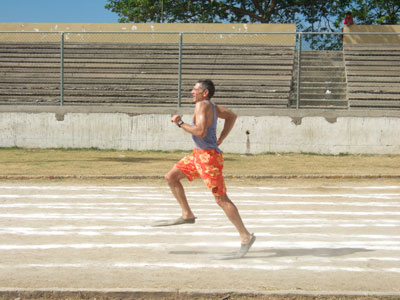 My friend, Mahiyan, the eternal optimist, had an idea – why not ask the organizers of the meet if they could take a brief intermission so I could to attempt the record. I was hesitant about inconveniencing all the competitors, timers, and coaches, but Mahiyan persisted. Immediately, the head coach, Jose Manuel Bustamante (called "Bus" for short), responded with an enthusiastic "no problema!" Within minutes, I had the fins on my feet and was ready to go. Bus gave me the signal to start and I sped off to the cheers and screams of dozens of delighted kids!
It was exciting, but difficult. The dirt track was slippery and several times I tripped and narrowly avoided going down. As I rounded the final turn for the finish line, I could hear the kids shouting their encouragement and I decided to speed up. With only 30 meters to go, I suddenly realized that the right fin was starting to slip off. If the fin actually fell off, the entire event would be disqualified! Somehow, by Gods Grace, I managed to wiggle my heel back in the fin and crossed the finish line in 8 ½ minutes!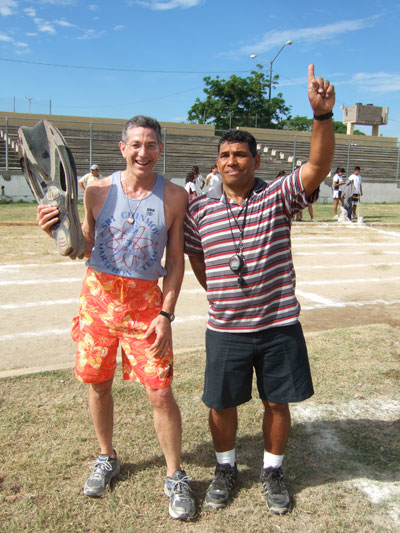 Bus was thrilled and, when the media rushed up, the coach became not only my interpreter but my PR agent as well. He remembered that the World Harmony Run had come through Mazatlan several years ago and, although I couldn't understand his Spanish, I picked up enough to know that he explained our philosophy of oneness and self-transcendence brilliantly.
 
I was so encouraged by the experience in Mazatlan that I decided to try something new this winter – fin running in the snow. I figured if there are snowshoe races, why not swimming fin races? It passes the joy test, but there are definitely still a few bugs to be worked out!