The Fastest Time for a Marathon (26.2 Miles) and 50 Miles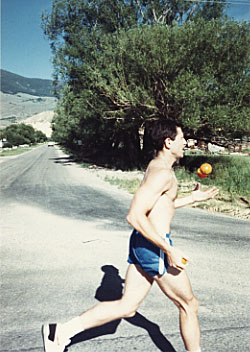 In 1989, Ashrita set another record by joggling for 50 miles in the time of 8 hours 52 minutes and 7 seconds.
No, I didn't make this up! Joggling, which is juggling while jogging, is a well-established and highly competitive sport. In this case, the record is for juggling 3, balls but there are categories for 5 balls and even 7 balls. You are allowed to drop the balls but you have to scramble around and collect them and then go back to where you fumbled, thereby losing precious time. Obviously, the key to this discipline is concentration.
In 1988 I trained for 6 months for the marathon record which at the time was 3 hours and 29 minutes. Some acquaintances tried to discourage me from attempting the feat, saying it was too difficult. But, of course, that motivated me even more to go for it. Before the event I sent out notices to the media, and one of the New York daily newspapers covered my last practice session. On the day of the marathon, the article came out with a large headline proclaiming "Queens (NY) Man Goes for the Jugular." Unfortunately, on that day in May in Flushing Meadow Park in Queens, the temperature climbed unexpectedly into the high 80's and I burned out around the 20-mile point. After all the publicity, which also included T.V. coverage, I felt pretty embarrassed.
I trained even harder and was ready to try again in July, but I needed to find a marathon in a cooler location. The Salmon River Marathon in Idaho fit the bill perfectly. It was up in the mountains and had a 5 a.m. starting time. I flew into Salmon River the day before and had a great meditation on the morning of the race. I was worried about the elevation affecting my performance but that turned out not to be the problem. With 8 miles to go, a bug flew into my eye and I wasn't able to fish it out! I inadvertently pioneered one-eyed joggling but was still able to finish in 3 hours and 22 minutes. The record has since been surpassed, but I'm hoping in the near future to once again go for the "jugular".