Ashrita Furman Becomes First Person to Hold 100 Guinness World Records Simultaneously
NEW YORK – April 14, 2009 – Ashrita Furman reached a milestone today by becoming the first person to simultaneously hold 100 Guinness World Records when he and over 100 participants earned the world record for "A Poem / Literary Passage Recited in the Most Languages." The historic moment was a long time in the making for Furman, who has been breaking Guinness World Records for over 30 years. New York City Councilman James F. Gennaro presided over the event at City Hall Park in New York City and Guinness World Records judge Danny Girton Jr. was on hand to verify the feat.
Furman and over 100 members from the Sri Chinmoy Centre recited "Precious" by Sri Chinmoy in 111 languages including Afrikaans, Dzongkha, Kabyle and Picard. The group beat the current record held by the International Social Service of Hong Kong, which recited "Values on Communal Harmony" in 79 different languages on November 23, 2008.
The proud record-breaker had this to say about his unprecedented accomplishment, "With more than 170 nationalities represented in New York City this record celebrates the diversity of our city. While it wasn't as physically challenging as some of my other records, having this record as my 100th is very special tribute to Sri Chinmoy."
"What Ashrita did today is an amazing feat for him and Guinness World Records alike," said Craig Glenday, Editor-in-Chief at Guinness World Records. "He has a 30-year relationship with Guinness World Records that is nothing less than stunning, breaking records around the world and proving that you don't have to be famous to be the world's best."
New York City Councilman James F. Gennaro (D-Queens)added, "This is exactly the type of event that should take place in the seat of New York City government. To speak and hear the precious utterances of Sri Chinmoy is truly an inspiration."
Ashrita Furman has been breaking Guinness World Records since 1979, when he completed 27,000 jumping jacks to earn his first Guinness World Record.  Since then, the 54-year old health food store manager from Queens, New York has broken records on all seven continents, including completing the fastest mile on a pogo stick in Antarctica and bouncing the fastest mile on a kangaroo ball along the Great Wall of China. Furman has practiced meditation for over 30 years, which helps him keeps his concentration during marathon record attempts. Whether it be performing forward rolls for the entire 12-mile length of Paul Revere's ride through Massachusetts or racing against a Yak in Mongolia to set the mile sack-racing record, Furman is a determined individual and a true world-class record holder!
Wednesday 15th April 2009
(press release taken from Guinness World Record site)
For a long time now, Ashrita has held more Guinness World records than any other person on earth.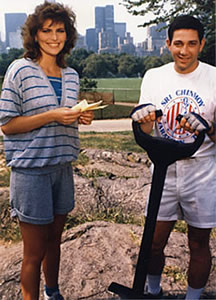 In 1987 on the David Frost Guinness Show, Ashrita was presented (right) with a telegram (below) from the founder and editor of The Guinness Book of World Records, Mr. Norris McWhirter. Ashrita was awarded the world record for holding the most world records in unrelated categories, a record he held for many years until the category was eventually retired by Guinness.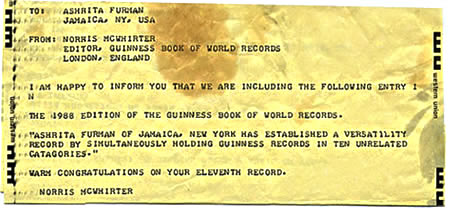 In December 2007, Guinness revived the category and Ashrita was awarded the official record for "the most records held at the same time by an individual." Ashrita gives all the credit to his spiritual teacher, Sri Chinmoy, who taught Ashrita how to practice self-transcendence using the power of meditation.
Certificate From Guinness World Records