I love dogs…tail-wagging dogs, rub-my-belly-please dogs, enthusiastic dogs, loyal dogs, always-willing-to-please dogs. Some of my blog readers may recall that I once broke the record for the most jumps on a pogo stick in a minute while holding a cute dog named Suki in one arm, in front of Scotland's famous Greyfriars Bobby dog statue.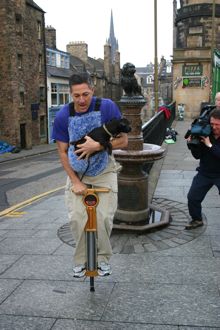 During a recent trip to Vermont to attempt a stilt-climbing record attempt up Mount Equinox, I was delighted to see a sign in our motel's lobby:
 
Dogs are welcome in this motel. We never had a dog smoke in bed and set fire to the blankets. We never had a dog who stole our towels or played the TV too loud. We never had a dog that got drunk and broke up the furniture or punched holes in the walls. So, if your dog can vouch for you, you are welcome too.

And sure enough, the next day, I met a super energetic Cocker Spaniel in the parking lot who had obviously vouched for his owners!
Anyway, I gave that introduction about dogs just so when you heard about my latest record you wouldn't think I was totally crazy! When the 2009 Guinness Book came out in September, a new category caught my attention: catching the most Maltesers in a minute in your mouth thrown from 15 feet away. (Maltesers are the British version of chocolate covered maltballs.) This record seemed quite beatable because my friend Bipin and I hold a similar record for the most grapes caught in a minute. But, to make it more challenging, I instantly decided to attempt this record with a dog on my back!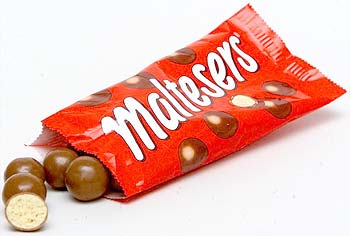 I ordered some Maltesers from a place called Jolly Grub (!) and Bipin and I started to practice. We noticed two things different about Maltesers straight away. First, unlike grapes, the Maltesers melt in your hand. Bipin, who is the thrower, had trouble releasing the sugary missiles accurately or quickly. Secondly, Maltesers are hard. If you miss catching those hard treats in your mouth – it hurts! After our practice, my lips and gums were actually swollen and bleeding – so much for being an easy record to beat!
But the opportunity to attempt a record with an animal was just too good to pass up and the idea just kept getting better. Since we would be using a dog in the attempt, I thought of returning to Scotland for the record. When I told my friend and fellow dog lover Vinaya about the plan, he came up with a suggestion which was the icing on the cake, "Well, if you're going to use a dog for the Malteser attempt, why not use a Maltese!" That clinched it for me. I called up my friend Uranta in Scotland and asked him to find a calm Maltese dog, and then booked the plane tickets to Edinburgh that very same day!
Uranta is a genius at this kind of thing. He has a big heart and he is not easily rebuffed. Within a day, he found Noah, a 7-pound Maltese dog. Noah's Mom, Linda White, had a good laugh about the proposal, but she immediately got into the spirit of the event and agreed.
In the meantime, back in New York, Bipin and I were invited to break the Malteser record on a local TV station – without a dog. The good news was that we did quite well. We more than doubled the record to 41 Maltesers caught in a minute. The bad news was that we did too well! As Vinaya, Bipin and I boarded the plane to Scotland, we weren't sure we would be able to break our own record with Noah on my back. And if we didn't break the record, we'd have to flea the scene! (Sorry!)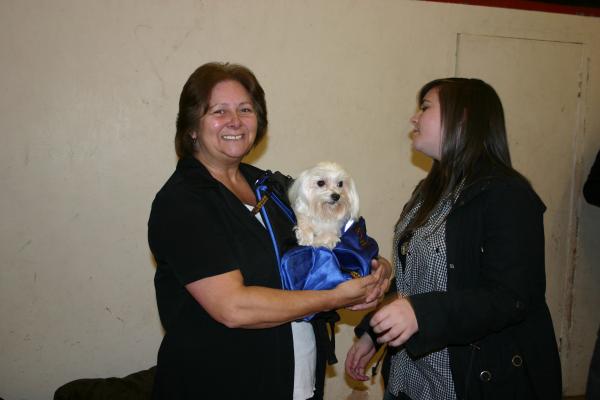 Uranta met us at the airport in Edinburgh and took us straight to Noah's house. We all hit it off with Noah and his little Maltese friend, Pixie. The humans – Linda, Donald and Narele – were also a delight. Linda is full of energy and donates a lot of her time to humanitarian endeavors. We all basked in her and her family's hospitality, and Linda was amazed that the normally shy-to-stranger Noah was so friendly to us.
The real test was to see how Noah would react once he was in the backpack. The pack is specially designed for carrying dogs by a company called Outward Hound! We went outside and gingerly placed Noah in the pet carrier strapped to my back. When Bipin began firing Maltesers at me, Noah seemed fine, but I definitely felt inhibited in making sudden movements or lunging to catch the occasional errant Malteser. I got my wish – breaking the record would be a major challenge!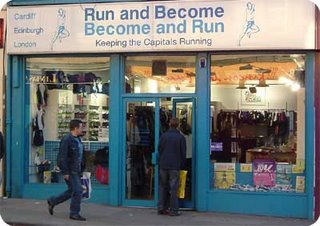 One of Sri Chinmoy's favorite aphorisms is: "Man proposes, God disposes." Alas, Edinburgh was in the midst of a brutal cold wave. Bipin quickly discovered that he wasn't able to throw as accurately in the cold, so at the last minute, we were forced to cancel the outdoor Greyfriars Bobby plan. We needed an indoor venue. Uranta suggested the running store, Run and Become, which is managed by our friends – Arpita, Tarit, Dhavala and Shymala Stott. They were only too happy to accommodate us, so in the middle of their business day, we measured out a 15-foot throwing area and Maltesers suddenly appeared in the air between racks of running gear! Amazingly, the customers hardly seemed to notice as they nonchalantly dodged maltballs like it was an everyday occurrence!
While it would have been fun, the store was a bit too cramped so we opted for a squash court at a nearby Sports Centre, and scheduled the official attempt for the following morning. It was the Scottish poet Robert Burns who said, "The best laid schemes o' mice an' men". With time still left in the day, I was inspired to attempt the record for running a mile in the fastest time while balancing an egg in a spoon in each hand. Our good Scottish friends, Janaka and Janani, came to cheer me on. All was going well but, probably due to the cold, I pulled a hamstring and had to hobble off the track. Oh, God…I could only hope that the injury would heal by the next day.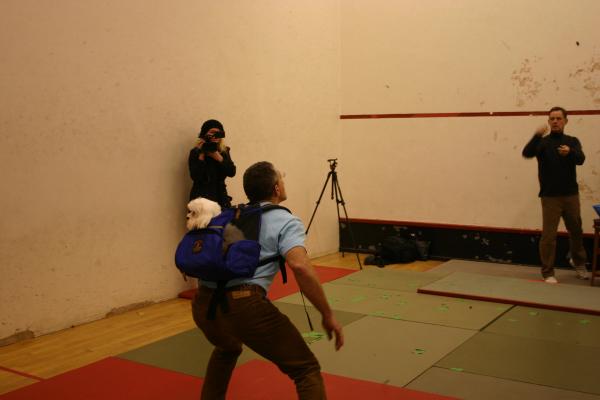 Of course, it didn't, but I remembered that Sri Chinmoy taught me to "never give up," and I decided to attempt the record anyway. As it turned out, I was so happy to see Noah at the squash court in the morning that I completely forgot about my injury! Bipin and I did a quick practice with Noah and we suddenly felt like a team. In front of a crowd of well-wishers and representatives from the media we made the attempt. Bipin threw well and I was able to catch 51 Maltesers in a minute breaking the record by 10, with a Maltese on my back!

The small gathering of bystanders erupted in applause and we all congratulated Noah for being the perfect assistant. In fact, I was going to entitle this blog "Noah's Bark" until I realized that Noah hadn't barked once the entire weekend! And Noah is no slouch in the intelligence department either. After the record, Bipin offered Noah a Malteser, but Noah adamantly refused and wisely opted for some healthier dog treats! Afterwards, we all drove over to Greyfriars Bobby to take photos and I had the distinct feeling that Noah knew he had done something unique. Dogs are a lot smarter than most people think. As a very observant man once remarked, "If you think dogs can't count, try putting three dog biscuits in your pocket and then giving Fido only two of them"!