"There is only one dream that will always be perfect in your lifetime.
And that is the dream of self-transcendence." Sri Chinmoy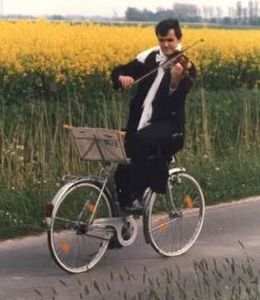 Every year, friends of mine put on an event in Munich, Germany called the Impossibility-Challenger games. Impossibility-Challenger is dedicated to self-transcendence in the purest sense. The event is always packed full of energy and inspiration and I love its diversity. Imagine amazing feats of strength and daring: strongmen pulling cars with their teeth, brave souls juggling chain saws and shot puts, martial artists breaking blocks of ice-everyone testing the limits of their talents. One creative fellow even rode a bicycle backwards for a considerable distance while playing his violin! Plus, it has a very special impact on me personally: compared to everyone else, I seem almost normal! Anyway, I decided to participate and attempt a stilt running record. And I figured, since I was going to Germany, why not make a "European Tour" of it with a stop in Italy?
The plan: attempt a record in front of the Colliseum in Rome; then, take a train up to the lake region and visit my Italian friend Priyadarshan for a few days; finally, fly into Munich for the Impossiblity-Challenger games.
I arrived in Rome in late March. I hoped to break the record for the most jumps on a pogo stick in a minute. The current record was 234 jumps. This amounts to almost 4 jumps per second so the conditions have to be ideal.
I found a perfectly level and smooth stretch of sidewalk right outside the Colliseum. The location was a full of activity, but it didn't bother me. Besides the constant stream of tourists, there were a few local Romans dressed up as gladiators who kept trying to entice the tourists to pay to take a photo with them. I thought I was all set, but apparently these fake gladiators are very territorial. One of them came over, pointed his sword at me and grunted something in Italian. For a split second, I imagined challenging him to gladiatorial combat like in the days of ancient Rome but, considering that it was my pogo stick against his sword, my better judgement prevailed!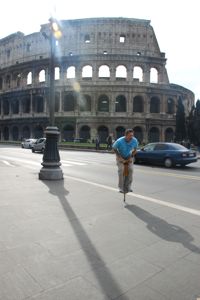 I surrendered the territory and fortunately I found an even better spot nearby for the record attempt. With all the witnesses and video crew in place, I meditated for a moment and began hopping away. While it was an entertainiing sight for the tourists, for me it was a very intense 60 seconds. In any case, I managed to complete 245 valid jumps (there has to be a gap between the pogo stick and the ground to be considered a "valid" jump). Part 1 of the plan was completed and successful!
Later, I met up with my friend, Sanjaya, who was in Rome for another reason: to attend the opening ceremony of our World Harmony Run. His plans also included a visit with Priyadarshan, so with pogo stick and stilts in tow, we made our way to the train station to embark on the journey north to Verona. What a nice change of pace for me: a relaxing few days in Northern Italy. Little did I know that there was a problem aweighting-er, awaiting.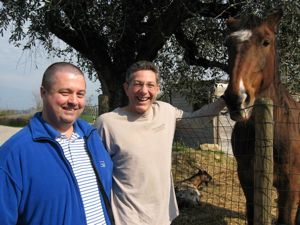 We hadn't seen Priyadarshan for a couple of years, but he hasn't changed in the slightest. He is consideration incarnate, and he is the ultimate host. We stayed at his parent's home and our schedule for the next 3 days was completely mapped out. We would visit small villages in the area, take walks around the lake and through the olive tree groves, go to local fairs, talk about philosophy and, above all, EAT!
Priyadarshan is a connoisseur when it comes to food and is himself an excellent cook. He obviously inherited this talent from his mother because, for the next few days, his mom prepared one delicacy after another. One day it was an incredible polenta and another day it was an exceptional risotto, all accompanied by salads that exuded health and freshness, and cheeses that just about exploded with flavor in your mouth. My taste buds were on overdrive. And, to top it all off, Priyadarshan insisted on taking us out after almost every meal to the best gelato and pastry shops in town for dessert.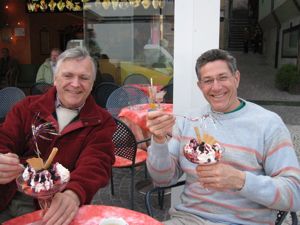 I can sum up the mini-vacation on Lake Garda as follows: it was a visual, spiritual and edible paradise, but it was a caloric disaster! By the time Priyadarshan drove me to the airport to catch my flight to Munich, I was a good 5 to 7 pounds heavier. Even Priyadarshan could tell that I had expanded my waistline and we were both worried. In a few hours, I was supposed to run a sub eight-minute mile on stilts but, I was unquestionably-chubby! In the best of times, I'm not a great runner (in fact, a Turkish marathon champion once said that I look like a gorilla when I run). With the extra weight, Impossibility-Challenger seemed to become more impossible!
Sri Chinmoy has a favorite aphorism, "God's dictionary does not house the word impossibility!" I decided to stop worrying and I had a peaceful meditation during the flight. Then something amazing happened! The moment the plane touched down in Germany, I inexplicably experienced a strong feeling of joy in my heart. The feeling lasted for hours. It stayed with me throughout the drive to the sports center where the games were being held, I could feel it while strapping on my stilts, and I was enjoying it even while doing an interview with the media moments before the record attempt.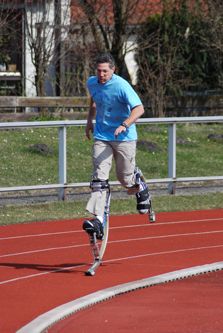 The race itself was a blur. I remember the thrill of bounding down the track and the cheers of the bystanders as I finished each lap. On the final lap, I knew that the record was within reach as long as I didn't trip and fall. But sure enough, as I rounded the turn towards the home stretch, I tripped on the rubberized track and began to stumble. Fortunately, I regained my balance to sprint across the finish line.
While I was leaning against a tree and still trying to catch my breath after the event, an official came over and told me the surprising news that I had broken the record by 40 seconds. I inwardly thanked my teacher, Sri Chinmoy, for revealing to me the joys of self-transcendence. Once again, it became clear that the body and mind are important but our real Source and power resides deep within.
Later, I called Priyadarshan to share the good news. He was relieved that he hadn't been responsible for messing up the record and he invited me back for a return trip in the fall. He also admitted that he learned his lesson. Next time he would cut down our multiple gelato and pastry excursions to a spartan single visit per day! Now, that's discipline!